---
No batteries. No Screens. Pure Fun.
Dragonfly Castle is a toy and gift store in the heart of historic Lawrenceville in Pittsburgh, Pennsylvania. We specialize in European and American-made toys that will stand the test of time. Bit by bit, we are putting a selection of our inventory online but please be patient. If you shopped in our old store you know that we have so many fun toys and gifts. Don't hesitate to call or message if you have something in mind that you can't find here.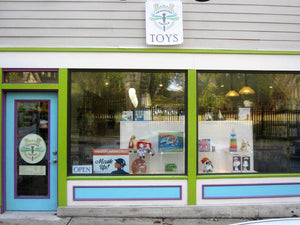 Our "New" 1840's Store
When we closed up shop at our old location we had no idea it would take so long to rehabilitate our little Butler Street building. We worked with an architect and the Pittsburgh redevelopment agency to get it just right.

Now we're back in business! Shop in our store in person or by curbside pickup or mail order.  We've installed HEPA air filters and are still wearing masks.

If you're not comfortable shopping in public, appointments before or after normal hours are great way to relax and enjoy browsing. Just call and we'll make a date!

We want to make sure shopping is fun and safe.